Classes
Year 3 Willow: Ms Michienzi
Topic webs and letters
2023 - 2024
Year 3 Term 1 and 2
Meet the teacher - Ms Michienzi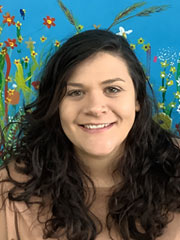 Hello! It is so nice to meet you. I'm Miss Michienzi and I am looking forward to working in Willow class this year.
I have worked at Holy Cross for over 13 years now and I have loved every moment of it especially watching all of the children I have worked with grow and develop. Holy Cross is a special school to me as I attended Holy Rood as a child, and some of the teachers that taught me are still here now! I started off as a teaching assistant and decided to develop my career further in becoming a teacher and this is something I had to work very hard for. This also means that I have been lucky enough to work across all year groups, from year 1 to year 6, in my time as a teaching assistant and teacher.
I have recently come back from maternity leave after having my first child, which has been amazing. I absolutely love being a mum.
I am also Computing Lead at the school which is a subject area I am passionate about. Computing is so important in the world we live in now and as the leader of this subject I feel it is important that all children have the opportunity to develop their skills through computing lessons, to arm them with the skills they need for the future.
Outside of school I love spending time with my family. We love going swimming together, going out for walks and enjoying the local parks. I also love baking and cooking, especially when others can enjoy it at family gatherings or parties.
I can't wait to watch you all grow and develop into fantastic learners this year.
Holy Cross Catholic Primary School
Queen's Drive
Swindon
SN3 1AR
Telephone: 01793 527679
Email: admin@holycross.swindon.sch.uk
Headteacher: Mrs S Dowdeswell