Classes
Year 6 Chestnut: Mrs King
Topic webs and letters
2023 - 2024
Year 6 Term 1 and 2 Topic Web 2023-24
Meet the teacher - Mrs King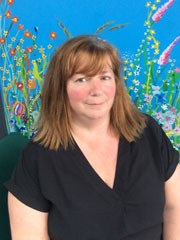 Hello, I'm Mrs King and I am the Chestnut Class teacher in Year 6. I have been teaching for many years now and am very excited to be joining Holy Cross. I have taught in other Catholic schools and have a wide experience teaching across Years, 3, 4, 5 and 6. I am passionate about getting to know the children in my class and learning all about you, that way we can work hard and have plenty of fun throughout the year. I want your final year at Holy Cross to be amazing so together we need to make this happen.
I enjoy teaching all lessons, but my absolute favourites are History, English, Geography, Maths and PE. We have excellent topics to learn about in Year 6 so there are many things to look forward to - I can't wait to get started! We will enjoy many good books, explore the world, investigate the past as well as making scientific discoveries in our lessons. I am also looking forward to helping you conqueror your SATs, going on residential with you and putting on your leaver's show at the end of the year.
Outside of school, I spend most of my time with my family, walking my two dogs, taking my daughter to hockey matches and watching football – I am a massive Liverpool supporter! I also like to read, going to the theatre and travelling to interesting places. Welcome to Chestnut Class.