Curriculum: Music
Why do we teach Music? Why do we teach Music in the way we do?
The National Curriculum states that all children should receive a high-quality music education which should engage and inspire pupils to develop a love of music and their talent as musicians, and so increase their self-confidence, creativity and sense of achievement. As pupils progress, they should develop a critical engagement with music, allowing them to compose, and to listen with discrimination to the best in the musical canon.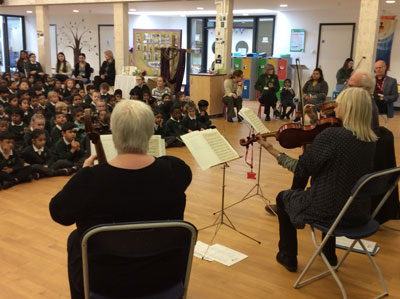 How do we teach Music? What does this look like?
At Holy Cross Primary School, all children receive music lessons in class using the Charanga scheme. Through this scheme, we focus on progression of knowledge and skills in the different musical components and the teaching of vocabulary also forms part of the units of work. Each topic is based on a particular song and the children engage in activities that include:
Listening and Appraising
Musical Activities

Warm-up Games
Singing
Playing instruments
Improvisation
Composition

Performing
The children also take part in weekly whole school singing practises and they sing in masses and other events. Some children are given the opportunity to rehearse and play instruments to accompany the singing in masses.
In Early Years and KS1, music is embedded into the entire curriculum and pupils have opportunities to:
use their voices expressively and creatively by singing songs and speaking chants and rhymes
play tuned and untuned instruments musically
listen with concentration and understanding to a range of high-quality live and recorded music
experiment with, create, select and combine sounds using the inter-related dimensions of music.
Many children learn instruments in school, taught by visiting, qualified music teachers. These children are given the opportunity to perform to the rest of the school during assemblies.
In Year 3, all children receive weekly tuition in one instrument, such as clarinet or violin.
In Year 6, the children rehearse and perform a musical production, often accompanied by live musicians.
Each year, some children in Year 5 and Year 6 are given the opportunity to take part in the Junior Voice Festival in which they learn and perform a number of songs in a local professional theatre.
We also have regular Music Roadshows where professional musicians tell the children about their instruments and perform to the whole school in groups and as soloists.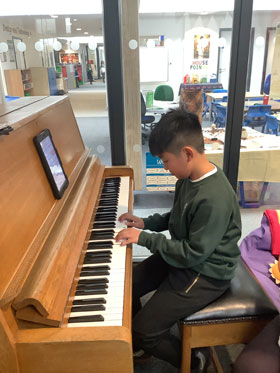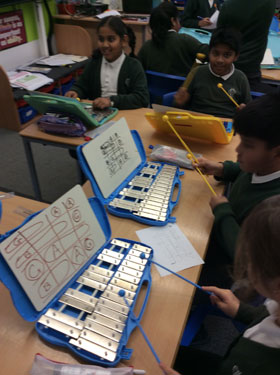 By the time children leave our school what will they be able to do?
It is clear that the children enjoy singing as a whole school and performing in concerts and masses. This is evident in the quality of their singing and the enjoyment that they have expressed in discussions about music. Whilst in school, children have opportunities to develop a life-long love of music and the essential skills of musician that ensure they are well prepared for their next stage of education. Our children are able to enjoy music, in as many ways as they choose - either as listener, creator or performer. They can discuss music and comprehend its parts. They can sing, feel a pulse, add rhythms and create melodies in a group and they can further develop these skills in the future and continue to enjoy and embrace music in their lives.
"Music gives a soul to the universe, wings to the mind, flight to the imagination and life to everything." Plato
Weblinks for Music
BBC Ten Pieces and BBC Teach